TV / CCTV (Item ID: 21594)
Overview
The HD Wireless Day/Night PTZ Cloud Camera, model TV-IP862IC, takes the work out of viewing HD video over the internet. After a brief installation, users simply open a web browser and login from any internet connection. The free TRENDnet CloudView App brings live video to Apple® and Android™ mobile devices. Night vision and pan tilt controls provide surveillance over a large area in complete darkness.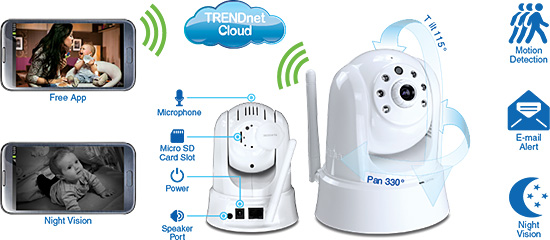 For instant purchase and more information:
http://itminimart.com/product/trendnet-tv-ip862ic-hd-wireless-daynight-ptz-cloud-camera/
Features

Easy Setup Quick intuitive installation
HD Video Experience high definition 720p HD video quality
Night Vision Night vision up to 7.5 meters (25 ft.) in complete darkness (indoor rating)
PTZ Pan, tilt, and zoom the camera from your mobile device
Preset Auto-Patrol Define preset PTZ auto-patrol points
Digital Zoom Zoom in by a factor of four
Motion and Sound Detection Emails Receive email snapshots and video clips triggered by motion and sound
Mounting Hardware Mounting bracket supports ceiling installation
Two-Way Audio Built-in microphone and connect a third party speaker for two-way audio
Storage Store video to a Micro SD card (up to 32 GB) or to a Samba server
Free Apps See live video on a mobile device with free Apple® and Android™ apps
Complimentary Software Pro-grade TRENDnetVIEW Pro software to manage up to 32 TRENDnet cameras
---
Specifications
Lens
Focal Length: 4.6 mm, F2.0
Focal Depth: 20 cm - infinity
Manual focus lens
Sensor: ¼" CMOS sensor
Zoom: 4x Digital
Viewing Angle
Diagonal: 58˚
Horizontal: 49˚
Vertical: 31˚
Pan & Tilt
Pan: 330°
Tilt: 115°
Auto-Patrol preset positions (non-continuous)
Minimum Illumination
IR off: 1 lux
IR on: 0 lux
7.5 meter IR illumination distance (indoor)
Video Codecs/Resolution
H.264: 1280 x 720 up to 30 fps
MPEG4: 1280 x 720 up to 30 fps
JPEG: 1280 x 720 up to 5 fps (or 640 x 480 up to 30 fps)
Audio
Built-in microphone
3.5 mm audio jack for 3rd party speakers
Standard
IEEE 802.3
IEEE 802.3u
IEEE 802.3x
IEEE 802.11b
IEEE 802.11g
IEEE 802.11n
Device Interface
10/100 Mbps port
Micro SD slot (up to 32 GB)
Reset button
WPS button
LED indicator
3.5 mm speaker jack
Power jack
Network Protocol
IPv4, DHCPv6, ARP, TCP, UDP, ICMP, Bonjour, ONVIF Profile S
DHCP, NTP, DNS, DDNS, SMTP, FTP, Samba
HTTP
PPPoE
UPnP
RTP, RTCP, RTSP, 3GPP
Dimension
Camera: 128 x 159 X 142 mm (5.0 x 6.2 x 5.6 in.)
Weight
340 g
Operating Temperature
0 – 40 °C (32 – 104 °F)
Humidity
Max 90% non-condensing
Power
Input: 100 - 240 V AC , 50 - 60 Hz, 0.5 A
Output: 12 V DC 1 A; external power adapter
Max consumption: 10.5 W
Warranty
3 year limited
Management Interface
Image settings: brightness, contrast, saturation, black/white, Hue, mirror, flip, indoor/outdoor, light frequency, white balance, Day/Night mode with IR sensitivity adjustment, slow shutter (disable, 1/15s, 1/10s, 1/7.5s, 1/3.75s)
Recording: to a Samba and CIFS share, Mirco SD Card,or through software
Recording Type: continous, scheduled, motion, or sound detection
Event Trigger: motion or sound detection event triggers
Event capture: snapshot or video (up to 15 seconds)
Event activity: email or FTP alert
Dynamic DNS: support for NO-IP.com and Dyn.com
Settings: Max 20 user accounts and support for remote management
Compatibility: Internet Explorer® 9 or higher, Firefox® 13 or higher, Safari® 4 or higher, Chrome™ 24 or higher
TRENDnetVIEW Pro Software
Supports up to 32 cameras
Multiple language support
Set recording options (motion detection, schedule, event trigger)
Search and playback
Custom viewing modes and options
Compatibility: Windows® 10, 8.1, 8, 7, Vista, XP, Windows Server® 2003, 2008
Cloud Service
Free Cloud service
Automatically connect to TRENDnet Cloud camera over the Internet
Password protected Cloud service
Access to live video
Cloud support with your mobile device
TRENDnet CloudView App
Free Apple® and Android™ apps
View your camera on your mobile device
PTZ controls
Take snapshots
Digital zoom
2- way audio support
---
Package Contents
TV-IP862IC
Multi-Language Quick Installation Guide
CD-ROM (Utility, Software, & User's Guide)
Power adapter (12 V DC, 1 A) (1.5m/5ft.)
Network cable (1.5 m/5 ft.)
---
Published date:
18/01/2016 1:33 am
Expiration date:
31/12/9999
Address:
Http://itminimart.com/product/trendnet-tv-ip862ic-hd-wireless-daynight-ptz-cloud-camera/
Show on map
Avoid scams by asking for more details from the advertiser if needed, then verifying them afterwards (using Google, etc)
Transact face-to-face (cash on delivery) whenever possible to see the actual product before paying
Never pay via Western Union, Moneygram or other anonymous (no recipient account) payment services
Don't buy or sell outside of your country. Don't accept cashier cheques from outside your country
Avoid doing financial transactions online (online banking, PayPal/credit card payments, etc) while using public computers or networks (internet shops, airport, etc)
This site is never involved in any transaction, and does not handle payments, shipping, guarantee transactions, provide escrow services, or offer "buyer protection" or "seller certification"
Do you think this ad is a fraud, spam or violates Claseek terms and conditions? Please
report it to us
, we would appreciate your feedback.
Note: Claseek.com is NOT associated in any way with the advertiser and the ad advertised here. All items are posted entirely independent from this site, therefore your vigilance is absolutely necessary.