Others (Item ID: 16955)
Ezywipe Just Add Water

Interested pls sms 96644295

Clean, soft and natural wet towel in just seconds by just adding water!

Air dry it then reuse it again!
Made of natural

Soft

Biodegradable

Hypo-allergenic

Inexpensive and reusable materials

Eco-Friendly, 100% recyclable

100% Rayon, non-woven

Non perfumed, Better than wet tissue
Hygenic Towel in compressed form is easy, light weight and space saving.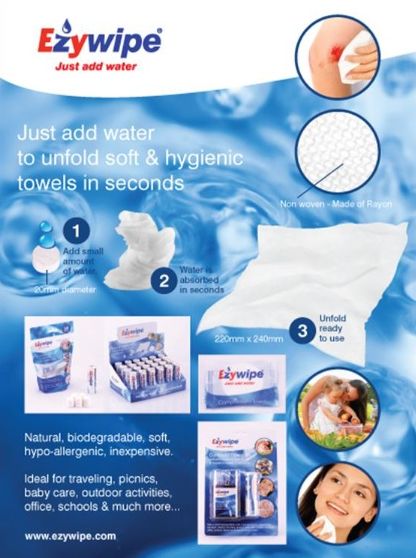 Ideal for travelling, picnics, baby care, outdoor activities, office, schools, camps, kitchen and anywhere where you need a towel instantly.

Just Add Water and See it GROW!
Just add water and see how a small roll of material unfolds into a refreshing towel in seconds!! Simply Amazing!!!

Can be washed and reused.


Comes in the following packs and sizes:

Option 1 : Tissue Size - 1 pack containing 8 tissue wipes
(each roll unfolds to 22cmx24cm)
Option 2 : Face Towel Size - 1 pack containing 6 face towel wipes
(each roll unfolds to 28cmx40cm)

Option 3 : Bath Towel Size : 1 pack containing 1 wipe
(each roll unfolds to 71cmx120cm)

Interested pls sms 96644295